Two New Mexico police officers will face murder charges after fatally shooting a homeless man.
Albuquerque Police Department officers Keith Sandy and Dominique Perez will both face a single count of open murder, District Attorney Kari Brandenburg announced in a news release Monday. Open murder will allow prosecutors to file first or second-degree murder charges.
The incident, which happened last March and was captured on video by a helmet camera, shows the moment 38-year-old James Boyd was shot dead after illegally camping in the foothills.
After a standoff that lasted more than three hours, video released by the department shows Boyd appearing to cooperate with police.
"Don't change up the agreement, I'm going to try to walk with you," Boyd can be heard saying as he reaches to pick up his belongings.
Seconds later, Boyd is hit with a flash-bang device. The visibly disoriented suspect then appears to take out two small knives before he is shot six times by Sandy and Perez. A K-9 officer is then released onto the motionless man.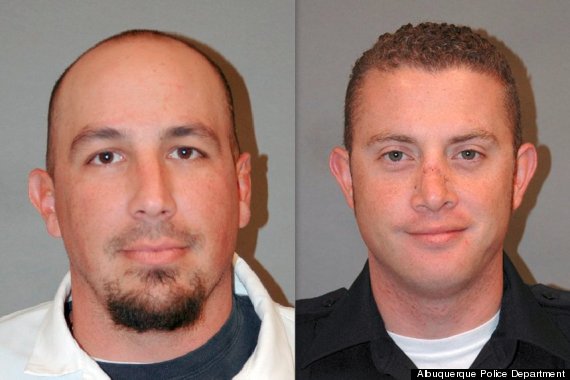 Keith Sandy (L), Dominique Perez (R)
At the time of the killing, Police Chief Gorden Eden said the shooting was justified because the homeless man was a "direct threat." According to the Albuquerque Journal,
Boyd suffered from schizophrenia.
Boyd also had a long criminal history, and
once broke a female officer's nose
back in 2010, KOAT reported.
Brandenburg filed the murder charges using criminal information, a process which allows the District Attorney to file charges without first presenting evidence to a grand jury, according to the Associated Press.
In dashboard audio first obtained by KOB4 last September, Sandy could be heard calling Boyd a "fucking lunatic" and threatening to shoot the illegal camper in the penis with a shotgun just hours before the killing.
In an internal memo obtained by the station, Sandy was asked about his comments by investigators shortly after the killing.
"Jokingly, just kind of locker room banter, just told him, you know, 'Don't worry. I'll shoot him in the pecker with this and call it good," Sandy said.
Sandy then recanted his statement minutes later.
In 2007, Sandy was fired from the New Mexico State Police over accusations of fraud, KRQE reported. The officer was initially supposed to be a "civilian employee" who would collect evidence but not have a badge and gun. As he rose through the ranks, however, that changed.
A report released by the Department of Justice last April eviscerates the Albuquerque Police Department, telling Mayor Richard Berry that the department "engages in a pattern or practice of use of excessive force, including deadly force, in violation of the Fourth Amendment."
We find that officers frequently misused electronic control weapons (commonly referred to by the brand name "Tasers"), resorting to use of the weapon on people who are passively resisting, observably nonthreatening but unable to comply with orders due to their mental state, or posed only a minimal threat to the officers. Officers also often used Tasers in dangerous situations. For example, officers fired Tasers numerous times at a man who had poured gasoline on himself. The Taser discharges set the man on fire, requiring another officer to extinguish the flames. This endangered all present.
At the forefront of the DOJ's criticism was a lack of accountability in the department:
The use of excessive force by APD officers is not isolated or sporadic. The pattern or practice of excessive force stems from systemic deficiencies in oversight, training, and policy. Chief among these deficiencies is the department's failure to implement an objective and rigorous internal accountability system. Force incidents are not properly investigated, documented, or addressed with corrective measures.
Twenty officers in the department who were involved in shootings in 2010 and 2011received money from the police union as a way for cops to "decompress," the ABQ Journal discovered in 2012.
In August of this year, the city hosted a shooting contest for cops, drawing more than 500 people. Since 2010, more than 35 people have been shot by Albuquerque police, with more than 25 of those shootings resulting in the deaths of suspects.
Albuquerque officers have shot more people than the NYPD, a department serving a city 16-times larger, since 2010, according to advocacy group ProgressNow.
On Saturday, a veteran APD officer unknowingly shot a fellow undercover officerduring a drug sting that went awry, according to the New York Daily News.
Ken Ellis Jr., whose son — an Iraq War veteran who suffered from PTSD — was fatally shot by an APD officer in 2010, told the ABQ Journal that filing charges against Perez and Dominique was a "no-brainer."
"The whole words knowns James Boyd was murdered," Ellis Jr. told the publication. "When the officers take the stand, the rest of the department is going to see that and think 'I better mind my Ps and Qs and police constitutionally or I might be the next one who is indicted.'"